Chairman's Message 2017/18
I would like to wish a good season to all the teams playing in the Leeds, Bradford and British Leagues.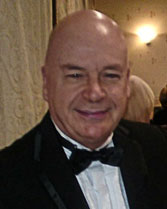 I am pleased to welcome you all to the new season.
This season the Club has 10 teams competing at various levels in the Leeds League and we now have 3 teams in the Bradford League. In the Senior British League we also have a team. The Club has two teams competing in the National Cadet League and a team in the British Veterans League.
The Club is very much committed to developing players of all levels and has a coaching session which is run between 8.00pm and 10.00pm on Monday nights at Pudsey Leisure Centre.
The Club continues to develop table tennis in schools all over the Leeds area and has several coaches in schools finding new talent to filter through to the Club, although it is getting harder in schools due to cut backs in their budgets.
The Club is still interested in finding ex players to come back to the game even if they haven't been playing for years.
Many of you attend the tournament circuit competing at Junior, Senior and Veterans levels, so enjoy the tournaments but please remember you are representing Pudsey Table Tennis Club as well as yourself, and play your best.
I would like to welcome any new players for the new season and hope you enjoy the competition.
To catch up with all the latest news, schedules and results, please make sure you check the website regularly. The results can also be seen on the Leeds Table Tennis League's, Bradford table tennis site and the British League website.
Paul Dykes
Chairman
Pudsey Table Tennis Club