Chairman's Letter January 2022
Chairman Lee Orange's open letter to the Club.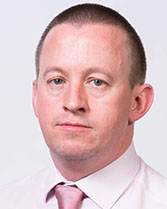 Firstly, I want to wish everyone a Happy New Year and healthy return to playing Table Tennis in 2022. It was a good end to the calendar year as we managed to see the return of competitive table tennis at local league, national league, cadet and junior leagues, and tournament play which gave all of our members a number of options to test out their match play after a long lay off due to COVID restrictions.
We still have to follow a number of rules during match play, due to ongoing COVID restrictions so please keep up to date with the emails from Peter Thompson or ask a member of the committee for further advice if anything is not clear. I would again ask all members for their continued patience during this difficult time as the rules may change at short notice, and we may need to adapt again to continue playing and training.
As I previously stated last year, let's focus on the enjoyment side and keep everything light-hearted amongst ourselves to ensure a pleasant return for all members and visiting teams to Pudsey. Please also show your support and stay for a social drink after your match or practice.
I would like to give a warm welcome to all new Pudsey members who joined last year after lockdown. Many smaller clubs have unfortunately not re-opened, but we were able to offer membership at Pudsey to all those players who still wanted to play local league or just have some friendly practice at the club.
In October, we finally returned to Monday night training sessions at Pudsey Leisure Centre. This was a welcome return for many members who enjoy playing against a variety of players and varying standards. It is also a great opportunity to meet other Pudsey team members, have some social banter or work on your table tennis skills. Please continue to show your support on Monday evenings, 8-10 pm.
We now have a regular group of Dads and Sons who play every Monday night which is great to see. The challenge this year is to attract more female players or see if we can persuade some Mums and/or Daughters to join the club and come along to practice on Monday evenings.
A special thank You to Peter and Granville for their continued support and coaching with the Cadets and Juniors who train at Pudsey on Friday evenings and Saturday mornings. We now have a healthy number of young players coming through the club which is always good to see.
Finally, the club is still committed to (belatedly) celebrating its 50th year and we are inviting all members past and present to join us in a celebration dinner commencing on Saturday 26th February at the Cornmill Lodge Hotel. Please look out for separate email/Poster/Invites in the coming weeks.
Please stay safe and I look forward to catching up with all members during 2022.
To catch up with all the latest news, schedules and results, please make sure you check the website regularly, and if you use X (formerly Twitter), please follow the club (@PudseyTTC) to get the latest updates.
Lee Orange
Chairman
Pudsey Table Tennis Club