Stop Press
Funding: Pudsey TTC are pleased to announce that we have received a £500 grant from Localgiving and Postcode Neighbourhood Trust, a grant-giving charity funded by players of the People's Postcode Lottery. This will be used to help fund the replacement of fluorescent lights with LED lighting in our club room.
This is in addition to our recent award of £250 from the Pudsey Lottery Good Causes for a table to help with our growing number of junior numbers, and the recent £200 Leeds Sports Equipment Grant from Leeds Sports Club Development.
Tournament News: New for 2023-24, Pudsey TTC enter two teams in the National Cadet League and one team in the National Junior League as against one cadet team for 2022-23. This is a result of our successful coaching system. Meanwhile we'll be entering 9 senior teams in the Leeds League and 1 in the Bradford League, as well as a British League side.
Pudsey Cadets Lift Division 2: The Cadets won Division 2 in the National Cadet League at Heckmondwike on the final weekend of the competition on July 1st. Well done to all players, coaching staff and parents for their support.

Other Snippets
Interested in trying table tennis? Then come along to our Monday night member sessions at Pudsey Leisure Centre between 8 and 10 pm. Please contact Peter Thompson on 07774 740091 for more information on this session.
Pudsey TTC has recently submitted two applications each of £500 for grant funding to youth community fundin. Further info to follow if successful.
Need new equipment? See our preferred supplier Custom Table Tennis for all your TT supplies.
The clubhouse at Pudsey Bowling Club has limited opening hours for practice sessions, which must be booked in advance - see the Diary & Resource Booking page for more information.
We ask that members continue to check their emails for updates, as well as the website and the club's Twitter feed (also shown on the homepage).
Pudsey Kit
Order your Pudsey Club Shirts now!
Welcome
Pudsey Table Tennis Club, based in Pudsey, Yorkshire, is a Table Tennis England registered Advanced Premier Club.

This means that we have attained set standards in areas of club development, competition, management duty, facilities and other club activities. We pride ourselves on having a strong coaching structure with Table Tennis England qualified coaches from level 1 to senior level. Our coaches are responsible for many of the coaching sessions run in Leeds schools and our development of players can be seen in the number of players who have gone on to achieve county honours and England representative honours.
We are in the process of achieving Clubmark status - a Sport England Cross-Sport scheme that recognises safe, effective child-friendly sports clubs.
Membership and Competitions
The club has an open membership policy and has members ranging in age from 8 to 70, with males and females from all sections of the community. As a club we like to socialise and have many stories of past functions - playing at a club headquarters with a bar is an added advantage!
The club is affiliated to the Leeds League and also competes in events run by the Yorkshire Table Tennis Association and Table Tennis England.
Season 2023/24
This season we have nine teams in the Leeds League and one in the Bradford League. The Leeds League will consist of 4 divisions, we have three teams in Division 1, two in Division 2 , two in Division 3 and two in Division 4. Bradford League has 4 divisions and our only team will compete in Division 1 as a result of promotion last year.
In the Senior British League we have one team this year which will be competing in National Division C (2) of the Table Tennis England Senior British League.
We also have two Pudsey Cadet teams competing in the National Cadet League being held at Huddersfield Table Tennis Centre over 4 Sundays during the season.
We are offering Pudsey Table Tennis Club shirts for sale. See the kit page for details.
Training
If you are interested in training and playing competitively, or receiving coaching, please contact Secretary Peter Thompson who will be happy to help.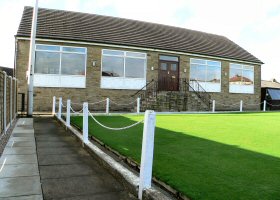 Pudsey Bowling Club
Pudsey Bowling Club is the club's base and provides excellent facilities for competitions where two concurrent matches can be played. It is also used for some training sessions.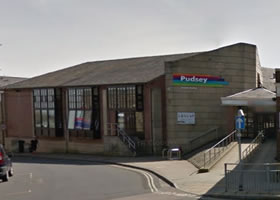 Pudsey Leisure Centre
The majority of club training sessions take place in the Pudsey Leisure Centre where up to 12 tables can be used for formal training and one-to-one coaching. Junior and Senior competitions are also held here on occasion.
History
Club President Granville Thornton founded the club as Bramley Ebenezer Table Tennis Club in 1970. Granville was elected as our first President at the AGM in July 2002.
The club was formed to provide alternative recreational facilities for children, both from the church in which the club was based, and the local community.
The club entered 2 teams, into the local youth league in 1970 and officially entered the Leeds League in 1973, and the Bradford League in 1984.
With the Closure of the church in 2004 the club found a new home at Pudsey Bowling Club. As a result of the success of this move the club was renamed Pudsey Table Tennis Club at the AGM in July 2005.
Affiliates